H.U.G. Inc. is raffling off backstage passes to fans who purchase a flight or hotel to Miyavi's US Tour.  You'll have to purchase through their site and only four backstage passes will be given out per venue.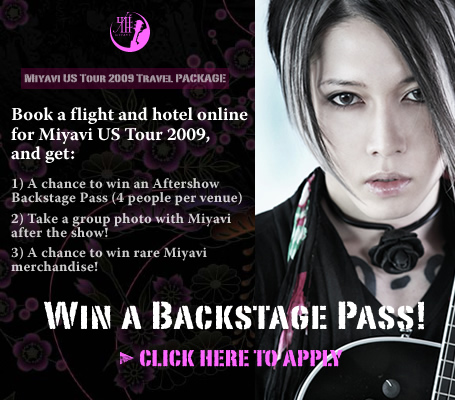 Since we have been receiving a high volume of questions in regards to this tour package, we would like to clear up a few issues that have caused some confusion. Upon entering, you will be raffled in for the backstage passes if you purchase a flight AND/OR hotel. You are not obligated to purchase both. ALL purchasees will be able to take part in a group photo with Miyavi after the show they attend. There is a limit of one entry per person per venue, so if you are planning to attend several concerts, please fill out one entry per concert venue. You will receive one raffle entry per form submission.
Miyavi fan club members will receive a discount, so please write your fan club number in the comment section on the form. Discounts will only apply to the fan club member, and may not be transferred to another person. Thank you for your inquiries regarding this tour package, and we hope we have addressed the concerns which were brought to our attention. -H.U.G., Inc.